What is Defensive Driving?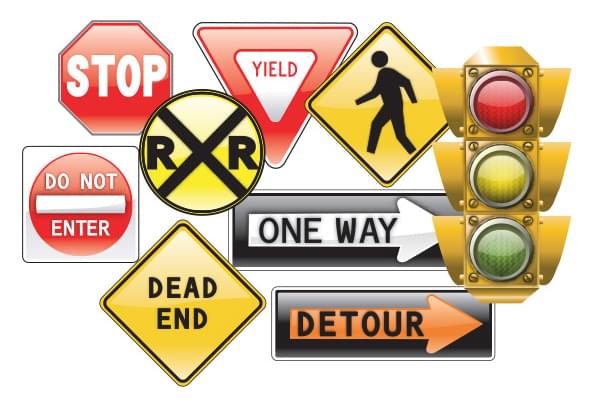 If you are the holder of a valid driver's license and an auto insurance policy, chances are you've already heard of a defensive driving program. However, not many know exactly what defensive driving is or what the course can do for you. Although, there are chapters that you read with quizzes following, and a final examination at the end, there is more to it than meets the eye. A driver improvement course teaches motorists how to become the best defensive driver they can be and also informs drivers of the importance of driver safety. Through all the tips, tricks, and techniques that come in a defensive driver program, you not only receive a point credit, reduce your auto insurance, etc., you will help keep the roadways safe from harm and learn how to react in certain driving situations.
According to the Alaska Department of Transportation and Public Facilities, traffic accidents injured 5,330 Alaskans and killed another 64 in 2009. That's an average of one person dying on Alaskan highways every 5.7 days. Throughout the total 12,890 traffic crashes that occurred this same year, many came to the conclusion that although driving is convenient, it can also be highly dangerous. Defensive driving in Alaska was designed and created to help motorists increase their chances of safety as well as other motorists on the roadways.
Why Take Defensive Driving in Alaska?
When you take a defensive driving course in Alaska, there are many things you can benefit from. Firstly, if the Alaska DMV permits, you are able to take the program once every 12 months for a two-point reduction. This is helpful for motorists who have received any form of traffic violation in the past and have existing points on their Alaska driving record.
Once you remove these points, it is likely that your auto insurance provider will lower your insurance premiums. By taking a defensive driving course to remove points, you are showing how you are bettering yourself to become a safer driver. Be sure to talk to your auto insurance provider about a special insurance reduction by taking this course! Even if you do not have points on your driving record, auto insurance companies have been known to give discounts for drivers who participate in defensive driving.
Approved defensive driving programs also are permissible if a motorist is required to take the program for an employer. Certain jobs require their new hires or current employees to take a driver safety course. Once you receive your completion certificate, you are able to bring it to your employer.
Overall, driver improvement programs provide Alaskans with the peace of mind that their roadways will become a safer place to be. Driver safety courses provide knowledge that can help motorists become more confident in their driving skills and offer them information about driving they may not have known.
Click Here to find out more about your defensive driving benefits!
How Online Defensive Driving Works
Taking driver improvement online for Alaska is much easier than many believe it to be. In just a few Simple Steps, you can be finished and on your way to a clear Alaska driving record! Taking the course online has become the more popular way to meet your defensive driving needs in Alaska. In three quick steps, you will be on the road to safer driving!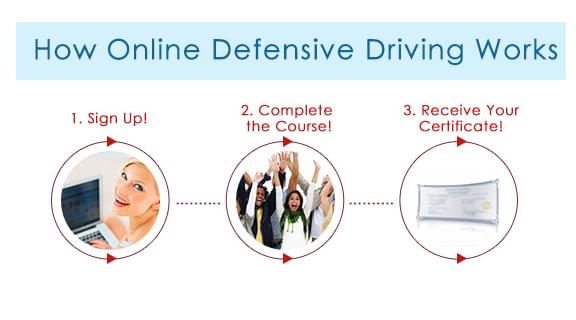 Sign Up for our program either through our online registration or Over the phone with one of our friendly customer service respondents. We are available 24 hours a day, 7 days a week for your convenience.
Complete the entire online course and your final exam at your own time and own pace! You can work from anywhere and any device that has access to the Internet. It's Fast and Easy!
Receive your Completion Certificate to deliver to the court, your auto insurance provider, or employer and we'll notify the Alaska DMV!
Many motorists are shocked about how simple the program is to complete. In just a few hours of your time, your Alaska driving record could be clean, your auto insurance could be lowered, and your driving knowledge could be expanded!
What You Will Learn
When you take defensive driving in Alaska, you will lean all you need in order to protect yourself and others on the roadways. With a driver improvement program, you will be taught the best ways to avoid receiving a traffic violation, how to keep your Alaska driving record clean, avoid rises in your auto insurance, and most importantly, the ways of becoming a safer driver! Topics in the course include, but are not limited to:
Handling Driving Emergencies
Driver Distractions
Steps If Involved In a Collision
Defensive Driving Techniques
Collision Prevention
Safe Passing Techniques
Safety Equipment
Alcohol and the Law
DUI Prevention
And more!
If you're ready to take the steps to become a better defensive driver with a clean Alaska driving record and a lower auto insurance rate, then get started in our online program today! Enrollment will only take a few moments of your time.